Sweet potato and red lentil houmous
Quantities: Serve 4 |  Preparation time: 20 min |  Cooking time: 20 min |  Time to rest: 1 h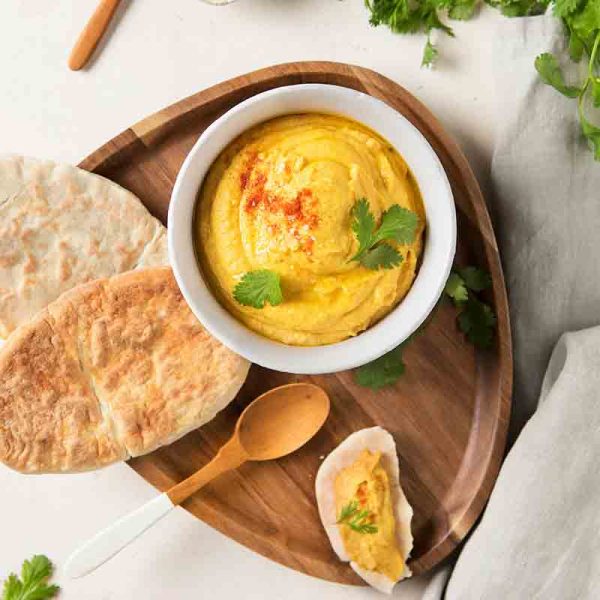 1 shallot
1 teaspoon of cumin
1 teaspoon of curry powder
1 teaspoon of ground coriander
180 g of sweet potato
100 g of red lentils
1 clove of garlic
500 cl water
100 g of tinned chickpeas
2 tablespoons of white almond puree
2 pinches of paprika or Espelette pepper
6 sprigs of fresh coriander
Fleur de sel
Black pepper from the mill
2 tbsp. Emile Noël organic deodorised coconut oil
2 tablespoons of Emile Noël organic rapeseed oil
– Sauté the chopped shallot in coconut oil with cumin, curry and coriander.
– Add the sweet potato cut into thin strips, lentils, pressed garlic and sauté 5 minutes before covering with 500 ml of hot water. Cover and cook for about 20 minutes. Halfway through cooking, add the drained chickpeas. When the red lentils are cooked, stop cooking and let them cool down.
– Put the sweet potatoes and legumes in a blender along with their cooking water.
– Add the almond puree and the rapeseed oil. Until the consistency of a very thick puree is obtained. Season with salt and pepper to taste. Refrigerate for 1 hour before serving.
– Tip the houmous into a serving dish. Sprinkled it with a little paprika or Espelette pepper, a few coriander leaves, a drizzle of rapeseed oil and some fleur de sel.
Tip
Serve houmous as an appetiser, with pita bread or oriental bread. Store in a cool place and consume quickly within 3 days. You can add a dash of oil on the top surface, which will help it to keep better.
Recipe © C'est ma food