Chocolate fondant with almonds
Quantities: Serve 4 |  Preparation time: 20 min |  Cooking time: 30 min |  Time to rest: 15-20 min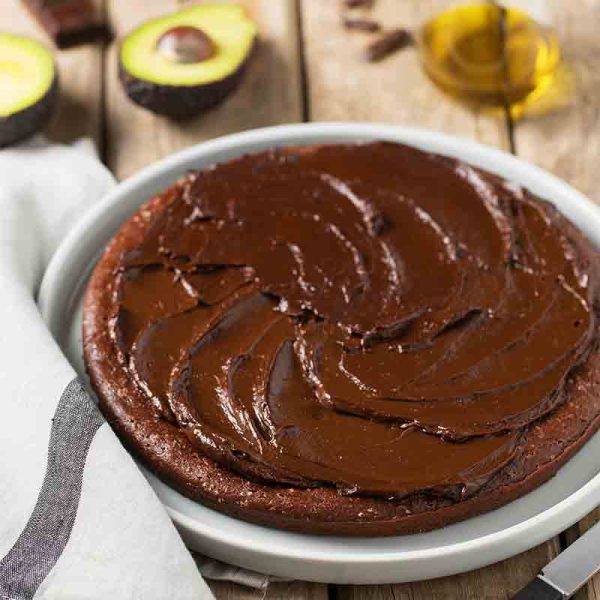 280 g of dark confectioners chocolate
50 g of light brown sugar
3 eggs
125 g of ground almonds
2 pinches of fleur de sel salt
70 g of avocado
60 ml of Emile Noël organic avocado oil
For the fondant
– Preheat the oven to 180°C.
– Melt 180 g of the chocolate in a double boiler or a bowl over hot water.
– Remove from the heat, pour in the avocado oil, then the sugar. Mix and allow to cool.
– Add the eggs one by one to the melted chocolate. Mix well.
– Sprinkle in the powdered almonds and the fleur de sel.
– Pour the mixture into a 22 cm diameter mould greased with a little avocado oil.
– Bake the fondant for around 15 to 20 minutes, depending upon the oven. The fondant must be molten in the centre.
– Once the fondant has cooled, remove it from the mould.
For the ganache
– Not 100 g of chocolate in a double boiler and let it cool slightly.
– In the bowl of a blender, place the avocado, cut into pieces, with the melted chocolate, and blend.
– Using a spatula, spread the ganache over the fondant.
Tip
You can keep the fondant for 3 days in the refrigerator by putting clingfilm over it. Take it out a little before you need it, so you enjoy it at room temperature.
Recipe © C'est ma Food