Roast vegetables with maple syrup
Quantities: Serve 4 |  Preparation time: 25 min |  Cooking time: 40 min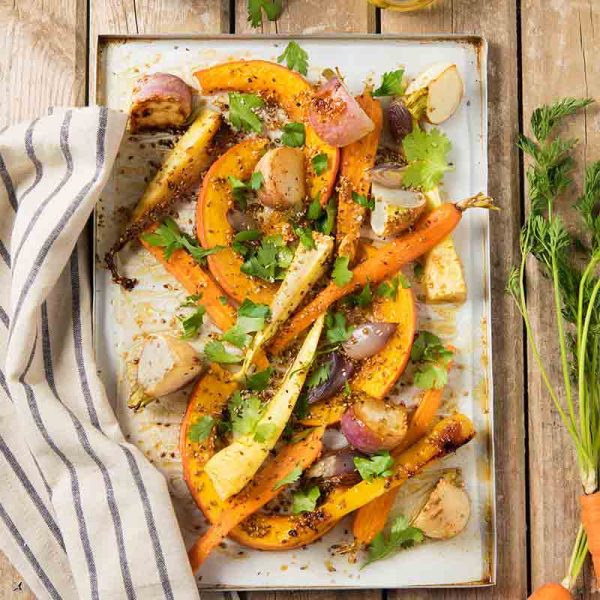 2 teaspoons of ground coriander
2 teaspoons of mustard seeds
½ teaspoon of black peppercorns
8 tablespoons of maple syrup
3 tablespoons of white balsamic vinegar
1 tablespoon of sesame seeds
1/2 a potimarron squash
4 multicoloured carrots (purple, yellow and orange)
2 parsnips
3 turnips (golden ball, pink, white)
4 shallots
A few sprigs of coriander and fresh parsley
Fleur de sel
10 tablespoons Emile Noël organic sesame oil
– Preheat your oven to 180°C.
– Crush the coriander, mustard and pepper into grains in a mortar.
– In a bowl, combine maple syrup with vinegar, oil and sesame seeds. – Add the spices and salt. Set aside.
– Cut your vegetables: the potimarron squash into strips, the carrots in half down their length, the parsnips, the turnips and the shallots in quarters.
– Pour the marinade over the vegetables and stir well to coat them.
– Spread the vegetables on an ovenproof baking sheet covered with baking parchment, and put them in the oven for 40 minutes. Stir the vegetables several times during cooking and drizzle with the remaining marinade. Vegetables are ready when they are tender and caramelised. Allow them to cool slightly.
– Just before serving, sprinkle the dish with fresh chopped herbs. This dish can be enjoyed as a main course or as a side dish.
Tip
Halfway through the cooking process, if your vegetables are becoming too much coloured, do not hesitate to place a sheet of baking parchment the size of the plate on top of them. It will provide them with the necessary moisture to keep them soft.
Recipe © C'est ma food